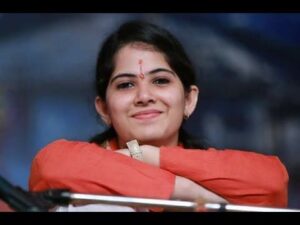 Jaya Kishori is a very popular now a days, her real name is Jaya Sharma.
She is very popular for her motivational talks, bhajans.
Even youth is sharing her videos at large scale in form of tik tok videos, instagram reels, youtubeshorts, whatsapp statuses.
JAYA KISHORI DATE OF BIRTH , PLACE OF BIRTH :
She was born in Kolkata, West Bengal on 13 July 1995.
She is from Hindu family, She is pure vegetarian.
Her hobbies are singing, listening music, music instruments.
JAYA KISHORI JI Husband and marriage :
She is unmarried as on 28 jan 2021…
But she has clearly mentioned in one interview that she will surely do marriage but not now.
Also she said that she is a ordinary girls like others just difference is that she do katha also and she also said that she never want to stop doing katha.

Sometimes people ask –
Q- How many children Jaya Kishori have?
A-  she don't have any child because she is unmarried. ( Updated on 28 Jan 2021…)


FAMILY: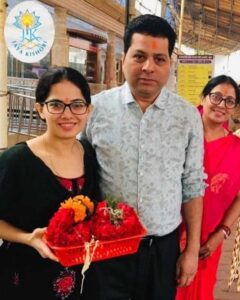 Her father name is Shiv Shankar Sharma,
Her mother name is Sonia Sharma,
She has one younger sister named chetna sharma.
EARLY LIFE :
He has seen an atmosphere of devotion in her home since childhood.
She started singing at very early age, when she was 7 she sang for the first time in satsang in her locality on the occasion of Basant Mahotsav  and listeners really loved her voice.
LIKES :
She likes to do yoga and also she promotes spirituality, meditation, yoga and exercise in her kirtan , katha and also on social media.
Her Teachers & Guru :
Her Guruji used to call her Radha in her childhood.
According to the information, Jaya Kishori has received education from Swami Ramsukhdas and Pandit Vinod Kumar.
Jaya Kishori Ji Fees Structure/ Charges for 7 days Srimad Bhagwat Katha :
Booking amount – 9.5 lakh including of everything like travel expense of full team which include 24-25 people.
Half need to be paid in advance and half after katha.
Payment mode – RTGS.
This all information is given on YouTube video. EBhajanlyrics is not sure if this is wrong or right,
Donation and charity :
It is said in some videos that she donate very much in Narayan Sewa Sansthan.
This institute serves the differently abled people. In this, financial assistance is provided to the differently-abled. Also, their employment and food and drink are arranged.
In an interview she once said – Due to her busy schedule she don't get time to help differently abled people, therefore, through donations, she tries to get her share of service to them.

Not only this she is also engaged in – 
> Promoting girl Education.
> Tree plantation.
> Encouraging Yoga.
Jaya Kishori Ji Contact Number : 
You can contact their team at : 9073955508
Email id –
info@iamjayakishori.com
jayakishori21@gmail.com
Address :
Jaya kishoriji,
C/O Shiv Shankar Sharma,
Balaji Ganges Complex
105 D Bidhan Nagar Road, near Ultadanga Bidhan Nagar Railway Station,
Kolkata – 700067

Website – https://www.iamjayakishori.com/
SOCIAL MEDIA PROFILES :


She is  very popular on social media . Below are the list of her official social media profiles –
Facebook – https://www.facebook.com/iamjayakishori
Instagram – https://www.instagram.com/iamjayakishori/
Twitter – https://twitter.com/iamjayakishori
Youtube – https://www.youtube.com/channel/UCfwa_zKl8-zC9rQDWIEixgg
Tik tok – She was on tiktok but govt of india has bannned tik tok in india.
( https://www.tiktok.com/@iamjayakishori)

Play Store app – https://play.google.com/store/apps/details?id=com.iamjayakishori.jayakishori 
EVENT BOOKING –
For booking event you need to fill your details on the below link –
https://www.iamjayakishori.com/event-details/
EVENT INFORMATION –


Her team update all the future event on their official website .
Check – https://www.iamjayakishori.com/event-details/ ( as of now no event is scheduled due to covid ).


Lyrics to her few bhajans – 
> https://ebhajanlyrics.com/jagat-ke-rang-kya-dekhu-lyrics-in-hindi/
> https://ebhajanlyrics.com/radhika-gori-se-biraj-ki-chhori-se-lyrics-in-hindi/


FEW MORE QUESTIONS –


Q – On which channel you can watch her bhajans and katha?
A – There is no dedicated channel. Most of her katha is shown on Sanskar TV.

      Sanskar TV Channel numbers –
      TATA SKY – 1057
      DISHTV – 1067
      VIDEOCON – 483
      Airtel – 682.

Also You can check her channel for satsang, bhajan, katha videos.

Q- Are Jaya Kishori and muktamani Tiwari are sisters?
A- No.

Q – Ticket Charge of her satsang?
A- Free of cost , She don't charge any fees for ticket.

Thanks for reading.
if you found this blog helpful do comment your views below….